Blind Placement is Critical to Hunter Success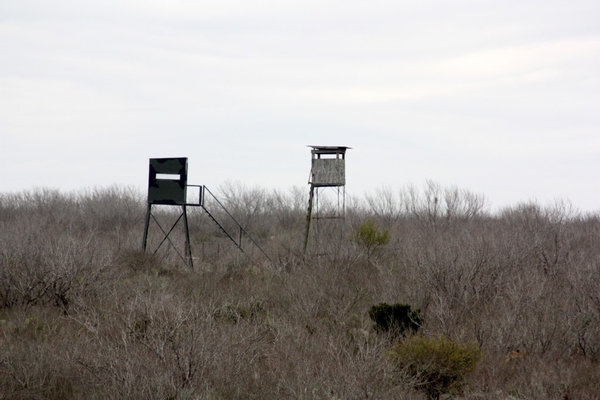 As my wife gathered her bags before heading to the deer blind, the other hunters stared in amazement. Binoculars, blue seat cushion, pink blanket, water bottle, spotting scope, video camera, flowery-colored knitting bag, colorful balls of yarn and her rifle all slung over her red sweatshirt shoulders. "What is going on here, you headed to a circus or what?" one hunter finally blurted out. The rest of the guys laughed but knew better than to chime in. "Oh be quiet, I know what I am doing" my wife replied as she staggered under the heavy load. Dressed in full camo from head to toe, some even wearing scent wafers pinned to their ball caps, the hunters laughed and eventually headed off to their blinds for the evening hunt.

Three hours later, the hunting party arrived back at camp to find the game skinning shed light on. Upon opening the shed door, the men stood in awe with their mouths agape. Inside was my wife, still wearing her red sweatshirt and pulling the last of the hide off of a mature sixteen inch wide ten point buck. Not another word was said about her hunting prowess after that night.

The secret to her success was really no secret at all– a very well designed hunting blind and the location. When selecting a location for your hunting blind, think like a deer and not like a human. Convenience is nice but it rarely pays off in high hunter success rates. My wife's tower blind, dubbed "The Momma Shack", was positioned downwind from a major travel corridor, overlooked several drainages, and was located on the edge of the largest oak tree thicket on the property. The blind had it all—good concealment, excellent visibility, was minimally impacted by the rising or setting sun, provided concealment when entering and exiting the blind, and her scent was always blowing away from where the deer gather. It continues to be one of the most productive blinds on the property year after year.

The success of this blind is simple:
It is large enough to safely and quietly hold all her "must have" hunting supplies to keep her comfortable and quiet for hours on end.
The windows are long and narrow, offering her a panoramic view of her surroundings yet wide enough for her to easily get her scoped rifle out the window without hitting the frame.
The windows are the right height for her and her chair is coordinated to the window height so she doesn't have to strain or move her body to see out.
The interior of the blind is darkened so she can't be silhouetted. Dark fabric curtains are to her back that help hide any movement inside. She can easily see to the front and both sides and not worry about what is behind her—her back faces downwind, her entry and exit trail, and the least likely place for deer to travel.
Because her blind is darkened inside, camo clothing is not required, and she sits near the back of the blind and away from the main windows.
Her blind is below the crest of the hill and not on top. Blinds on the very top of hills offer higher winds, and hunters are silhouetted as they enter, exit, and sit in the blind.
Her blind is securely anchored to the ground with metal stakes and guy wires. A tower blind needs anchoring to the ground to not only keep in upright in heavy winds, but also to steady the blind when the shot of a lifetime presents itself.
She has a good, solid window ledge to steady her rifle. She has sandbags on a small window shelf to not only anchor her gun before a shot, but also to steady her binoculars and spotting scope that helps her to identify and age her target.
Her blind is located far from human traffic areas such as main ranch roads, farmhouses, corrals and other high traffic areas. Her shots are all downhill and into thick brush, so safety after the shot is not an issue.
Her blind is located in the interior of the property and far from any boundary fence. She can't see the neighbors and the neighbors can't see her. Good blind (and feeder) placement makes for good neighbors.
Proper blind construction and location can make the difference between success and failure. Whitetails are crafty animals, so use these tips to help you stack the deck this hunting season, even if you have to carry a knitting bag full of yarn!
Posted in: Land Management